CASTING OUT THE SELF (VERSION 3.0) Site-specific installation at Foam Fotografiemuseum Amsterdam, 2019
As part of the Next Level exhibition series, Foam presents the first major solo exhibition of work of multidisciplinary artist Dominic Hawgood. Casting Out The Self premieres new work, commissioned by Foam, that visualizes the effect of the drug dimethyltryptamine (DMT). Hawgood personally experienced the psychedelic as a transfer into the digital realm. DMT is the active ingredient in ayahuasca, a hallucinogenic drink used by Indigenous people in South America.
The growing popularity of psychedelic drugs and ayahuasca ceremonies in western societies reveals a growing thirst for spiritual experience in a highly digitised world, in which we find ourselves increasingly disconnected with our environment. Dominic Hawgood responds to this development by connecting rituals associated with spirituality with the 'rituals' of visual computing and associated techniques such as computer graphics, CGI (computer-generated imagery), photogrammetry and 3D-rendering – new technologies that are fundamentally changing the nature of photography and altering the ways we experience and understand the world.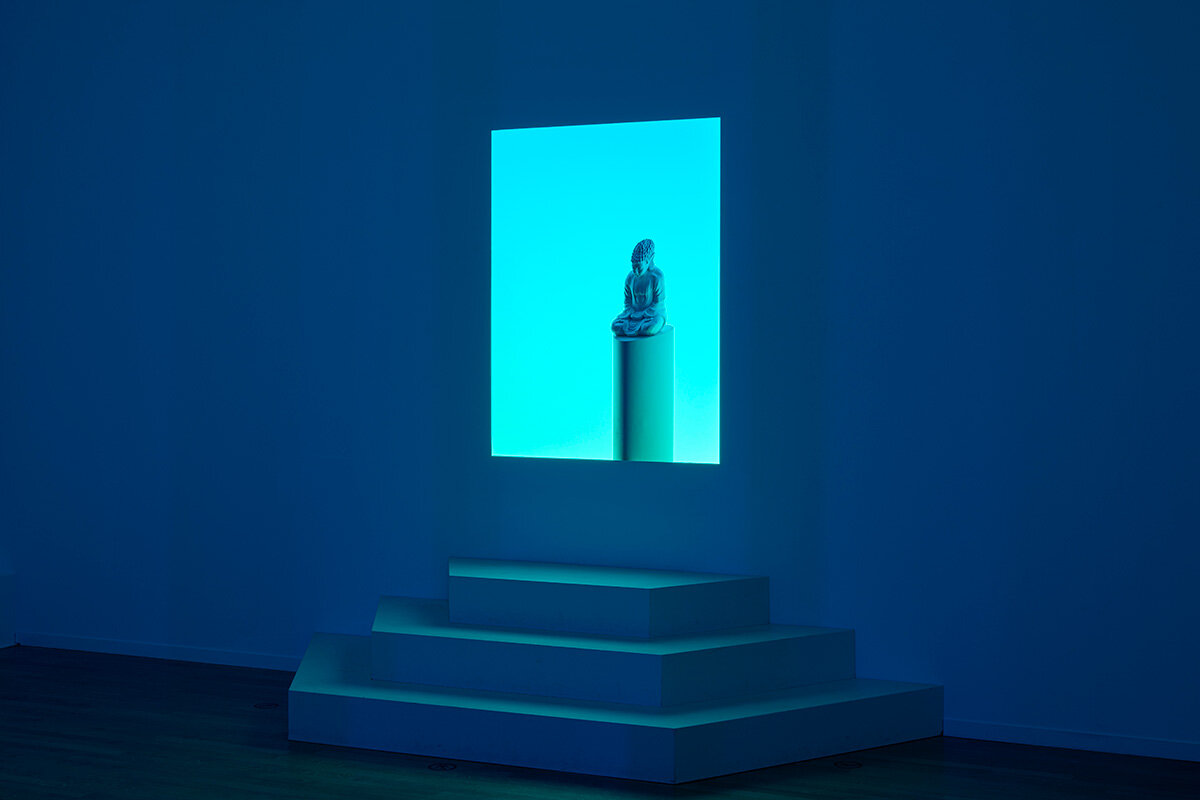 Casting Out The Self forms a twilight zone between physical and digital reality. The pink, purple and blue colour palette of the exhibition references 'normal mapping', a texturing technique in 3D computer graphics that creates surface detail on models, by exploiting RGB colour data (Red-Green-Blue). Ritualistic objects used in spiritual ceremonies are combined with references to apparatus that appear in computer graphics research papers. In the first room of the exhibition, for example, a circle of light columns appropriates a scanning rig used for photogrammetry, which here takes the form of a sacral altar.
A recurring element throughout the exhibition is the Buddha. Besides a spiritual icon, it also featured in the computational photography research from the mid-nineties of Marc Levoy from Stanford University. With its common appearance in computer graphics research papers, the Buddha statue became a standard 3D test model and render primitive, regularly used within communities interested in computational realism. In the exhibition, the icon keeps recurring in different states: as a lenticular print, a 3D scan, a 3D print, and as a 3D animation. It is a copy of a copy with a photographic lineage, but which would not exist in these shapes if it were not for the pioneering work of the research it references. For Hawgood the Buddha has a dual symbolism, that unites both the digital and psychedelic. Through all these applications behind visual computing, the real and the synthesized become entangled in a way indistinguishable to the human brain.